Why exhibit?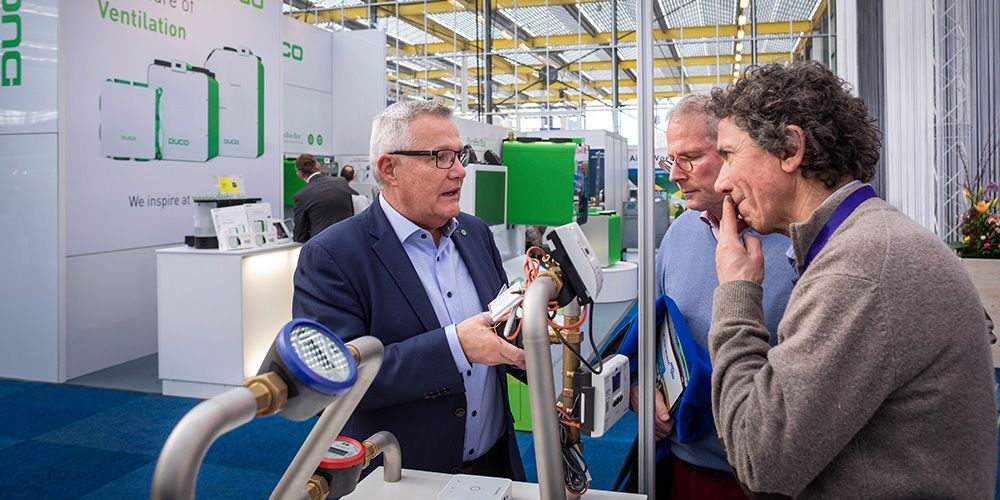 Green Heating Solutions: knowledge & innovation abound
For everyone who works in the HVAC market, it is an exciting and most of all important time. The Netherlands are increasingly making themselves independent from gas, heat pumps are the norm in new construction projects, and more and more consumers are switching to electricity or district heating. In short, it's the perfect moment to show your products and services - and therefore your brand - to the world. And Green Heating Solutions offers the perfect opportunity to do so.
Green Heating Solutions is the largest specialized trade show in the Benelux for sustainable climate technologies and is therefore unique in its kind. For three days, exhibitors and visitors can enjoy over 100 seminars and more than 250 stands; an unprecedented collection of knowledge and innovation.

The Solar Solutions International trade fair is held simultaneously with Green Heating Solutions. This means you can also open a stand here and show all of your products and services in these two sectors to the public in one go.
Request information now
Your own stage
Green Heating Solutions is the information platform for everything related to sustainable HVAC technology. Whether you want to put the spotlight on your products, systems, techniques or services, you'll have all the space you need on our exhibition floor. Visitors can visit the Innovation Boulevard to get a glimpse of the present and the future of sustainable heating.
The exhibition is open for three days and covers an impressive 24,000 m². The number of visitors effortlessly surpasses the 13,000, but more important than that is the composition of this audience: Duuzaam Verwarmd attracts a strictly business audience of decision makers. In 2023, in addition to the existing visitor groups, we will be investing heavily in the construction sector, government, and housing associations. This way you are assured that you will reach the right people.

Seminars & workshops
With the blurring between different kinds of installation disciplines, it is more important than ever for installers to be as well informed as possible. For this reason, professionals can visit more than 100 seminars and workshops at Green Heating Solutions This way an incredible exchange of knowledge and ideas takes place, with your brand at the center.